Learning the basics of the japanese language couldn't be easier.Full use of the touch screen and sound. Learn from one alphabet to the other and back. Learn how to write the character and how it's pronounced.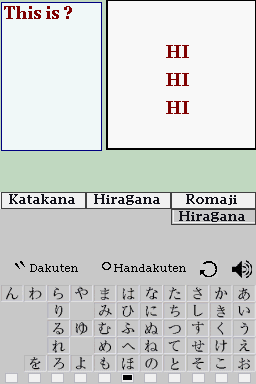 Changes:
Solved 2 bugs in the menu
Added a help system
Added a switch to turn the animation on/off
Improved randomizer
Each image have a 'weight' counter. If you have the character correct then it's less likely that the charachter is picked again. If you take the wrong character then the change will increase. If you pick all characters 3 times right in a row then sequence is restarted.