Aerthel updated his Nintendo DS homebrew game "Project Sheratan".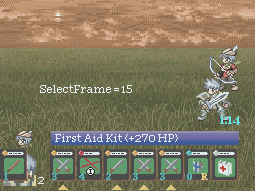 This Project aims to create a Card Battle engine for RPG games on Nintendo DS, mimicking the Baten Kaitos series's card system.
Changes:
New Features:
– Cards are now playable! Play them in succesion (0,1,2,3..) to make a combo, but be warned, you have a limited amount of time to do this
– As I just mentioned, the combo timer is done.
– The card selection helping system activates when you play a card. If it's a numbered card, it will search your card for the most appropiate cards for you to play next. Obviously, it's just a help, you still need to select the cards to play them.
– The card tray now recieves your played cards and counts them, like the BK Origins battle system did
– The music is now loaded form the EFS, so music files are no longer a problem (build includes 8 tunes to demonstrate this)

New Controls:
– Touch a card with the stylus while holding Left or Y to play the card.