Aerthel updated his Nintendo DS homebrew game "Project Sheratan".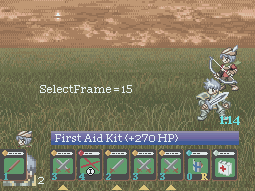 This Project aims to create a Card Battle engine for RPG games on Nintendo DS, mimicking the Baten Kaitos series's card system.
Changes:
New Features:
– Relay system now works . It's easy, after you end selecting cards with one character, select another one while the timer is still running. Done that, you can continue for longer card combos! Try to do a 10-card combo.

Changes:
– Fixed a bug that happened when selecting the next character in the combo when the timer is almost to stop
– Fixed a bug that made a character lose his/her turn when selected to participate in a card combo but played 0 cards.
– Removed some songs, making the build ~2.1MB (it was ~3MB in the previous version)
– The card tray now translates correctly user-selected cards into action codes.