maRk2512 updated his game QuirkDS, which he now calls "PuzzleBoy". It's a remake of the old GameBoy game "Kwirk, A-mazing tater".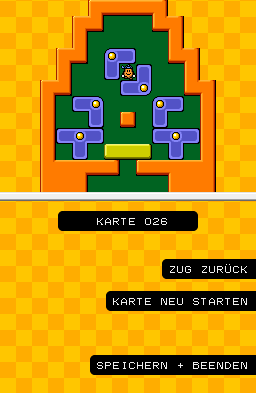 As the game's official page at the paLIB boards is not functional at the moment, maRk2512 has chosen to stay with PDRoms for a while. If you post this news on your page, please mention it's source as it should be!
Release notes:
– Changed name from QuirkDS to PuzzleBoy
– Added endsequence
– Added music for main menue
– Added SFX during game
– Added oldschool cracktro
– Added new player sprites
– Added five new languages (French, Spanish, Italian, Dutch, Swedish)
– All maps from Kwirk, A-mazing Tater and PC-Engine Puzzle Boy included! (136!)
– …many small bug-fixes!