RiverCrossingDS is a puzzle game for the Nintendo DS by MangledLftThumb. The title is very fitting and already tells you what the game is about.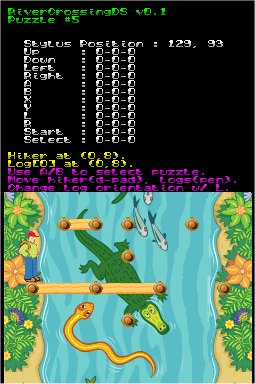 The screenshot shown above is from version 0.1 but should give a proper impression.
[Feb 16, 2007]
Including latest version w/ a few more puzzles, some flash screen animation + hiker/log checking logic.
Removed older versions ….
http://palib.info/forum/modules/newbb/viewtopic.php?post_id=15619#forumpost15619