Jayenkai updates his game "Sheep Goes Left". Guide your sheep always left, but avoid obstacles. Sounds easy, is easy, but only in the first few levels.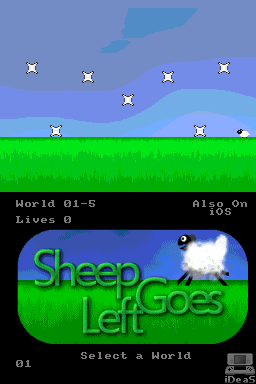 Changes:
Pros
100 levels, all taken from the iOS release, but tweaked so they work properly!
10 different backgrounds split up into 20 whole worlds, each with it's own BGM.
Saving, so everything has to be unlocked in a proper order. Woot!
Editor, so you can start to build your own awesome Sheepy Level collection.
Is Hard!!

Cons
You can Die now!
No DS Specific delights, yet. Everything is still a redo of the iOS original.
No switching of level packs. There's either the Play pack or the Edit pack. I'll sort that out next time.
No scores… .. Still no scores.. That's coming, though, don't worry!
Is Hard!!!

Awesome
If you die a lot, you can Skip now!!
Menu looks a bit better!
Sheep!! There are SHEEP!! (complete a whole pack without dying once.)
Is Hard!!!!