Spider Solitaire is a One-player card game that has gained popularity since being included as a default game on the Windows Operating System.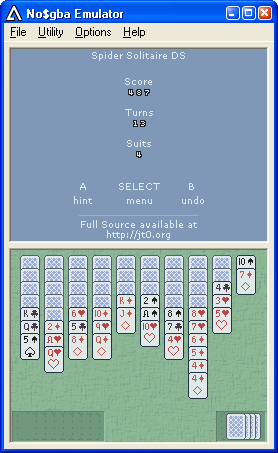 The basic idea of the game is to get piles of cards from K to A of the same suit. There are 104 cards with the possibility of playing with either 1 suit, 2 suits, or 4 suits.
Thanks to http://www.drunkencoders.com for the news.
Changes:
– This release
– Added a Particle-system for Fireworks when completing a game
– Added animation when Dealing
– Added animation when selected cards are dropped on an invalid pile
– Fixed bug; Clicking to deal when no cards left to deal would still go through the motions, playing the sound and internally updating the deal data
– Fixed bug; Black squares appearing when too many cards on screen
– Fixed bug; Flashed white before smooth-fading out after win
– Fixed bug; Dealing an Ace onto a King-2 pile would not release the pile as complete
– Compiled under DevkitARM r21 and libnds 20071023