RDilus is working on a Street Fighter homebrew for the DS.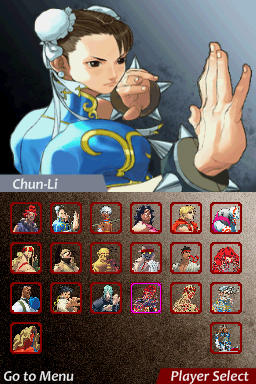 Right now you can only flick through the menu and character select screens.
Changes:
+ Added Training mode (you can enter the room and see the Characters touch them etc)
+ Added 20 Characters (this 20 characters gonna be playable not playable yet)
+ Added Characters Icons
+ Added Characters Backgrounds
– Deleted Menu Music (cant compile after i added those things above music will be back soon)

Info: You can enter "Training Mode" now and select Characters see the backgrounds of the Characters
Thanks to http://www.dcemu.co.uk/street-fighter-ds-preview-3-248418.html for the news.