Super Smash Bros Rumble has been updated!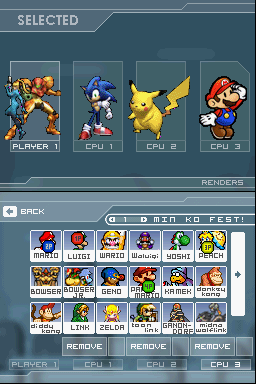 Release notes:
What's New:
-Collision Detection Added!
-Dynamic Camera Added!
-Character Selection Screen Complete!
-Stage Select Added
-Custom Font Added
-Timer Added
-Basic Character and Stage Attributes System Added (Makes adding them easier and unique)
+See how Luigi moves slower but jumps higher than Mario
-Save System Added (No use for it yet)
-21 Characters Added!
+If you pick a character and it loads Diddy, it means they don't have a strip yet!
-2 Stages Added!
-Lots of Issues Fixed!
-Basic Control Added!

You can only play as one player, no cpus yet. Don't fret though, the next demo will definitely have cpus (and hopefully some AI).

CHARACTERS YOU CAN CHOOSE FROM:
Mario, Luigi, Animal Crosser, Deoxys, Diddy Kong, Geno, Ike, Jigglypuff, Knuckles, Link
Marth, Olimar, Pikachu, Shadow, Snake, Sonic, Stafy, Tails, Toon Link, Waluigi, Yoshi

STAGES YOU CAN CHOOSE FROM:
DK Isle
Nintendo DS
Thanks to http://www.nintendomax.com/index.php?topic_id=10797 and http://www.dcemu.co.uk/vbulletin/showthread.php?p=2148281934#post2148281934 for the news.
http://ssbrumbleds.blogspot.com/2009/11/happy-halloween-ssbr-v06-released.html