retrohead has updated "Take the eggs! Ornithorhynchus Anatinus GO GO GO! DS."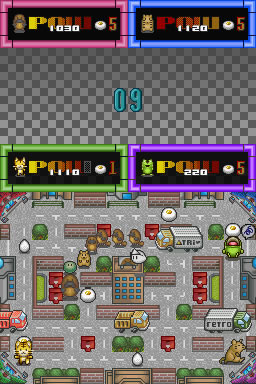 This is a port of the Sega Saturn game by NAXAT SOFT called Motteke Tamago with Ganbare! Kamonohashi. The game can be seen as a cross between the classic Bomberman games and Flicky.
Changes:
* Multiplayer menu is now open. This allows you to choose your opponents. You can only play against the CPU at this moment in time.
* Stage Select menu added. Choose your favourite and how many eggs to get.
* Inludes an extra world (3 stages), The City, which also includes enemies
* Ghost power-up aka Death Messenger is now included.
* New "Stage Results" screen added for single player mode.
* Improved CPU AI. They can now tell what objects are around them (sort of).
* 5 characters are now selectable from the character select menu. (Multi).
* Couple of new SoundFx added.

** Known Problems **
* Possible "invisible fried egg bug" when player gets hit as they are about to drop an egg. Feedback on this bug is appreciated if you experience this.
Thanks to www.ds-scene.net for the news.