retrohead has updated "Take the eggs! Ornithorhynchus Anatinus GO GO GO! DS."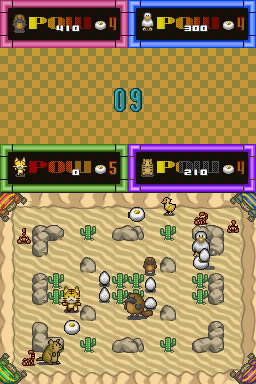 This is a port of the Sega Saturn game by NAXAT SOFT called Motteke Tamago with Ganbare! Kamonohashi. The game can be seen as a cross between the classic Bomberman games and Flicky.
Changes:
– Fixed the layer problem with the TV in character / world select.
– Improved 3D VRAM updates (Big thanks to DarkEz for the help).
– No more sprite flicker due to the new VRAM updates.
– New 3D Sprite system now allows for MP3 music in game. – This could not be implemented before due to the amount of flicker it caused.
– Few new SFX added courtesy of the extra RAM space available by using MP3.
– Smoother rotation on the stage select reel.
– Implemented world specific SFX.
– Added enemy to world 1. Don't let him get you!
– Visual notification of the scores being gained / lost.
– Invisible fried egg bug should now be fixed (reports welcomed).
– World 3 is now unlocked for all to enjoy!