Touhou DS by Spuzkaizer is a Shoot Em Up game for Nintendo DS.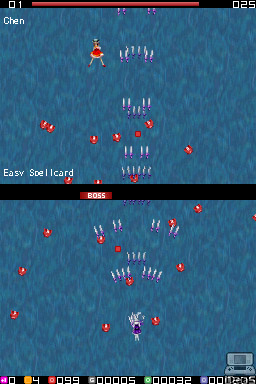 Changes:
I've added a lot more stuff since the last release. The game part is now 90% working; you can script characters, enemies and bosses. Refer to the manual for a short tutorial and more info about the available commands. Most of the things left are non-critical or don't even influence the gameplay at all: score, homing shots, continues, boss explosion is a bit, erm, underwhelming. The one thing that really is pretty important is levels. There's only one level and it never ends — I'll add multiple level support in the next version.
Thanks to www.nintendomax.com for the news!