The biohazard department of the CELLULARSPY company has recruited Dr. MOLLUSK and his assistant nurse Miss GREENPEA.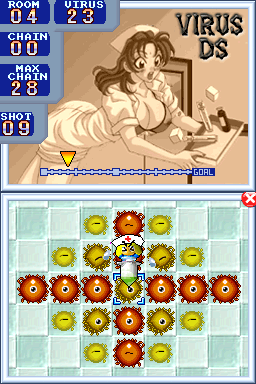 Unluckily the Doctor's beautiful assistant spilled the samples of a new virus. Taking your courage in both hands (that is, your console) you are now in charge of helping Miss GREENPEA to disinfest the rooms, one by one.
The virus can absorb particles of virus in order to grow, and if it absorbs to much, it explodes into 4 bits. Your mission will be to guide Miss GREENPEA to inject virus particles in the right places in order to clean the room.
If you achieve a virus chain explosion, you will get a new bit of virus as a bonus to get on with the fight.
The aim of the game is to clean the room by injecting particles of virus in the right places to explode the viruses. At the end of the 20 levels will get you a CHEAT CODE permitting you to discover a new theme with 20 news levels as well as new pictures