Evil alien jellies, the Wekas, have arrived to Earth. Their plan is to colonize our planet and subdue every form of life on it. But Waimanu, beside being only a little blue penguin, will fight the Wekas for the freedom of Earth inhabitants.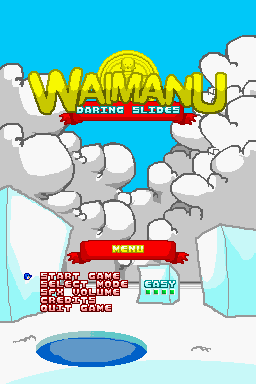 Waimanu can push blocks and make them slide, and sliding blocks can squash Wekas between them. He can also destroy blocks if they cannot be pushed, for instance if they're already against to a wall or if there's another block behind them, but also Wekas can destroy blocks whenever they want, and try to reach our hero.
The field borders can be also hit by Waimanu and they will vibrate for a second, stunning each Weka that is leaning to it. A stunned Weka can be eliminated simply by touching it, but beware because they recover consciousness quite fast!
Finally, blocks containing hidden Wekas are highlighted at the beginning of each level, and they can be destroyed before they deliver the alien life form.
Each level contains a different number of blocks and a different number of Wekas, but you've got a fixed amount of seconds (75 or 50, depending on difficulty level EASY/HARD that you selected when you started the game) to eliminate them, of they'll become faster and will eventually catch you easily, or they'll try to escape before you could eliminate them all, if only one Weka is left.
Points are awarded for every second saved when you completely wipe Wekas from a level. Then 400 points are awarded for each Weka that is eliminated, and extra points are awarded when more that one Weka is squashed with the same sliding block.
A small amount of points, 30, are awarded also for each destroyed block, and much more points are awarded for lining up all the three special 'Diamond' blocks (which are deployed in each level, they're also completely indestructible): if they line up against a wall, you'll be awarded 5,000 points, or 10,000 points if you're able to line them up with at least one of them not touching any wall.
Thanks to http://www.nintendomax.com/viewtopic.php?t=12787&f=19 for the news.