The King Of Fighters: Flames Of Courage is 2D fighting game based on the KOF saga: it has multiple characters to select, complex combos and lots of action.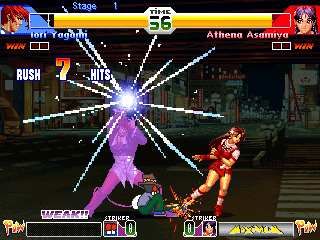 Changes:
– Menu to exit the game.
– Volume control.
– Fix numerous bugs and design flaws.
– Adjustment of gameplay.
– Bugs in the Guard and Guard Just corrected.
– Fade in music at the end of combat.
– CPU retouched.
Thanks to http://nintendomax.com/viewtopic.php?t=11806&f=54 for the news.
http://sites.google.com/site/egstudiogames/kof-flames-of-courage-v5