OpenTyrian is a port of the DOS shoot-em-up Tyrian. Tyrian is an arcade-style vertical scrolling shooter. The story is set in 20,031 where you play as Trent Hawkins, a skilled fighter-pilot employed to fight Microsol and save the galaxy. This port is done by Molokai.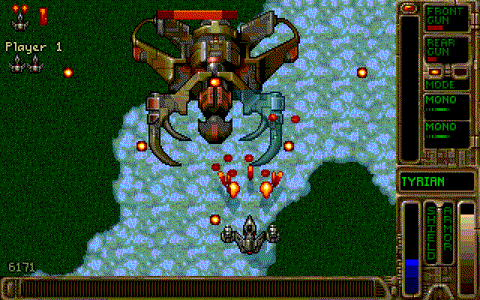 Changes:
Fixed sound bug from exit exception fix.
Fixed joystick configuration. Wiimote+nunchuk and Classic Controller are now fully configurable!!! Details in Controls.
Disabled mouse support (until SDL Wii is fixed with a solution for Wiimote dual functioning as mouse and joystick).
All userdata moved to tyrian/userdata. For those with versions earlier than 1.1.0, just move your tyrian.cfg and tyrian.sav files to tyrian/userdata. The next time you exit, joystick.cfg will show up there as well.
Button crashes are not confirmed to be fixed, but so far, I have not had any problems since I disabled the mouse functionality.
Whatever you do, do not use the GameCube pad yet. It will override (for some reason) the wiimote functionality, and as the GC pad joystick is not functioning yet, you can't navigate or change anything. I will work on a fix for this later.