TowerDefense is an classic 2D action game. Protect your base with all kind of defense systems and kill all the waves of enemies. If ten enemies reach the base the game is over.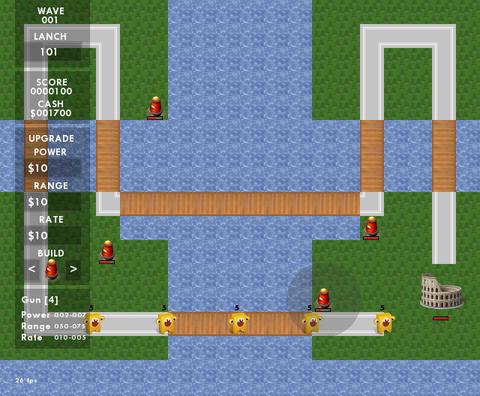 Changes:
22-01-2010 Version 0.93
GUI:
– Added weapon fire mode information on weapon help screen.
– Improve weapon reload delay initialisation.
– Added donate screen.
– Bugfix: Weapon fire sprites were 22 degree misaligned.
Core:
– Introduce different weapon fire modes.
– Fire at enemy in range nearest to base (Gun / Rifle)
– Fire at enemy in range with highest energy level (Cannon / Missile)
– Fire at fastest enemy in range (Laser / Nuke)
– Rebalance weapon specifications. Mix features more!
– Optimised some draw methods for beter performance. Thanks Crayon.
– Build game with devkitPPC r19 compiler.