It seems Team Wab, were releasing a native Wii homebrew, in fact the first native Wii homebrew game ever. It's called Wabtris and uses ripped graphics from a Playstation 1 game.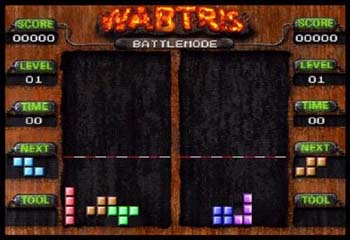 The download seems to be currently down.
PDRoms note: As the download does not work, some people are already talking about a fake release. We all shouldn't be too excited, unless the real proof is given.
Release notes:
Wab is really proud to bring you the first and only Real WII Homebrew.
This release is called WABTRIS, a small tetris cover, WIIMOTE powered !!!
Stay tunned for the soon coming source code of it…

you just have to decompress, burn the iso, and boot it with ANY modchiped WII, and follow the instructions.
remember this is an "autobootable" dvd image, so you won't go to channel menu !

Special thx to "PissProduction" (all graphics and musics are ripped from their MARVELLOUS game WARTRIS on playstation 1) – Greetings : Crediar, AloneTrio, segher, bLAStY, etc… from #wiidev@efnet