Hailed as the original FPS-RPG game that spawned countless imitators, The Original Strife: Veteran Edition is a love letter to the classic from 1996. Immerse yourself in this all-consuming epic quest that for the first time combines riveting role-playing adventure with the spectacular Doom 3D engine! Ported to Pandora by ptitSeb.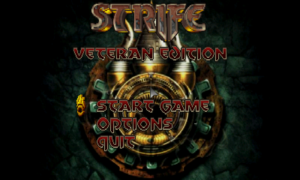 The game use the open source game code (based on Chocolate Doom) and use the data from the full game to work. You need the data for this PND to work. If you have the GoG version, simply put the .exe of the Windows verison of the .sh of the linux version inside apddata/strife-ve and it will be automaticaly detected and extracted. If you have otehr verison (like Steam), put the data inside appdata/stife-ve (*.wad, *.cfg and music and movie folders).
The game gl4es for default rendering. Speed is ok on default settings (on a Gigahertz), but for more FPS, go in Settings|Advanced|Graphics|Sprites and deactivate "clipping". There is no much changes visualy, but it gives a boost in FPS. By default, nubs are set as mouse button on left and mouse move on right. It can be changed by modifying content of "left_nub" and "right_nub" file from appdata/strife/home.