TimeSyncTZ is a Time Zone aware NTP client that also copes with Daylight Saving Time (DST).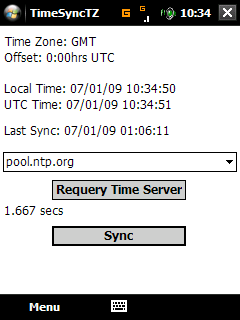 Changes:
-Changed UI layout (See screen shot) and workflow (Seperate Query and Sync buttons).
-Improved accuracy.
-Fixed Threading problems (hopefully) and a SilentDelay bug.
-New Debug registry option (Change to 1 to enable – Log will be created on the Device Root).