DreamShell is a shell application for Dreamcast.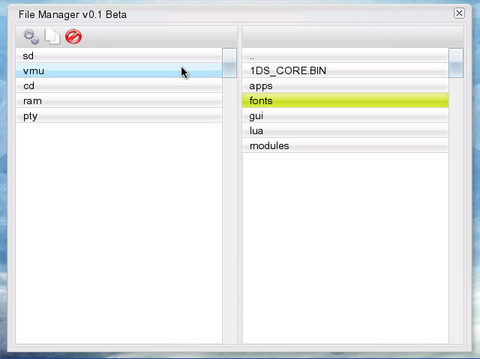 Changes:
– Added integrated support for SD Card. Now you can manage files from SD cards. Supported all the main features of the file system. But file name support only 8.3 format (temporarily).
– Added the first application – very simple file manager.
– Added a new xml element
– Added loading screen (displayed when an application is loading).
– Added initial support for changing the cursor GUI (yet it can be modified only by replacing file the cursor /cd/gui/cursor.png).
– Fixed parsing of xml colors to elements < label > and < input >.
– Fixed graphical glitches most of the GUI.
– The event "onload" (from xml ) of the application now works in another thread.
– Rewritten API functions work with the console commands, and added new features associated with the output of the console.
– Now the core DreamShell can be "put to sleep".
– Some minor bug corrections and code optimization.
Thanks to http://www.dreamcast.es/news.php?readmore=269 for the news.