Retroguru did not gave up their project Xump 2, the #1 gamedev compo winner from Revision 2017. It's still receiving plenty of tiny improvements. Help Misuki to destroy blocks systematically to clear another 48 fields. Puzzle fun ahead!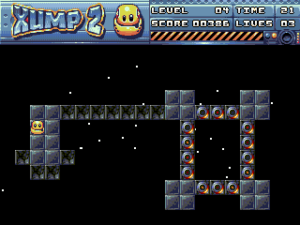 Quote from Facebook:
Xump 2 for Mega Drive / Genesis is still a in progress game, but we are almost there. There is a free version already available, the pimped one will be out on cartridge via DragonBox Shop later this year.

There is also a good chance to see this game on all other systems we support. Certainly this will depend on the feedback we get.