Retroaction is an interactive magazine featuring old and new games on retro platforms like the Amstrad CPC, Sinclair, Commodore, DOS, Arcade, Atari, Sega, Nintendo, NEC, MSX, Acorn, Apple, and more.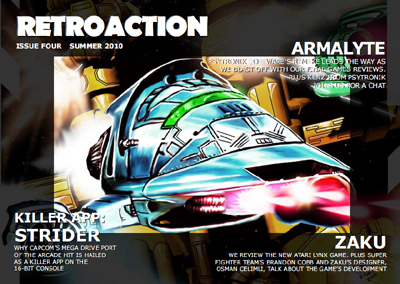 Content:
Features:
Killer App: Strider
A game that is so outstanding that you would buy the system just to play that game. The essential games that every retro gamer should play. This issue, it's Strider for the Sega Mega Drive/Genesis.

Retro Respect: Raid on Bungeling Bay
We've all missed a classic during our time (I know I have). This is
where we pay respects to the forgotten classics, the misunderstood, and the underdogs. Will Wright's classic C64 game finally gets some retro respect.

Retro Respect: Feud
We also pay some respect to the classic 1987 ZX Spectrum game from the development team of the Pickford Brothers.

Emulator Profile: ZX Spin
We take a look at ZX Spin, one of the most popular emulation packages for one of the most popular home computer of its time, the ZX Spectrum.

Reviews:
Armalyte (PC)
The classic C64 shoot-'em-up recently got the PC remake treatment. We take it for a playtest.

Zaku (Atari Lynx)
The long forgotten Atari Lynx handheld console gets a long a waited new game released for it. Zaku zooms into our review section.

Interviews:
Jason 'Kenz' Mackenzie
The man behind Psytronik Software – as well as other retro ventures – tells us all about his journey through retroland.

Brandon Cobb & Osman Celimli
To accompany our review of the Atari Lynx game, Zaku, we spoke to developer/designer Osman Celimli and publisher Brandon Cobb about the game and Super Fighter Team.

Out-of-Print Archive
Co-founders Andy De Wilde and Carl Williams spoke to us about their classic videogaming magazine preservation project.

Regulars:

Retroscene
Major happenings in the world of retrogaming.

Subscribe/Back issues
Keep up to date with the Retroaction website for retrogaming news, reviews, interviews and articles.

Recommended retro
Where we recommend other retrogaming media, including ezines, podcasts and more.

Computer Warrior
Part four of our coverage of the Computer Warrior comic strip, which was published in the Eagle comic from 1985-1994, where gamers discover how to play computer games within the computer's realm.
Thanks to Brandon Cobb, CEO of http://superfighter.com/ , for the news.
http://retroactionmagazine.com/magazine/retroaction-issue-4/