Archive for: File Categories Games

In The Invasion by Sly Dog Studios you must stop the space aliens from reaching your weapon, which you are in control of. If they do, your game is over! To fend them all off successfully, max out the score. Use the 'A' button to fire, and the D-Pad to move left or right. Get your marksmanship on!

Meteor Guard by Sly Dog Studios is a small space shooter in which you must destroy as many meteors as you can. Once nine of them have passed you, the game ends. Tap left or right on the D-pad to move in the corresponding direction, and when you are vertically lined up with the meteor you would like to destroy, [&hellip

Sly Dog Studios decided to jump on the bandwagon and created a Flappy Bird style game for the NES named Flappy Block. It is infinitely easier than the original, but it does what it is meant to do… waste time!

Ambushed is a tiny shooting game for NES by Sly Dog Studios. You're walking down the street and suddenly, from a couple of attached buildings that are across the street, you are ambushed by multiple gunmen… luckily you're packin' some heat! Use the D-Pad to move the player's scope around, and 'A' to fire. Score 99 (then +1) and you [&hellip

Sly Dog Games made up the very basic version of Pong, named 1k2p. It's a two player only game

Why did the chicken cross the road? For Points, of course! Get the chicken across the road to get some points. Don't get hit by a car though. Chickens are pretty defenseless against cars. One hit and it's game over. Game created by Sly Dog Studios

Video Poker by Richard Croskell is a well done homebrew Poker game for Sega Master System

Bread and Butter is a nice platform game by dragonfeet for the Sega Master System. You run, jump, climb and float on balloons to avoid wild animals and collect the super-sized ingredients to bake the Bread of Legend
Double Action Blaster Guys is a single but also two player game for NES by NovaSquirrel. This game is a sequel to "Forehead Block Guy&#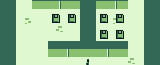 In Espionage you have to infiltrate an enemy base and gather as much data as you can