Below are Shahzad's Articles:
Todays new files are: Gameboy Advance Additions Hergs Solitaire v0.4 by Harold Toler Hergs Yahtzee v0.2 by Harold Toler Gameboy Color Additions Distorsion Demo by Anders Granlund (RGBASM fixed by DuoDreamer)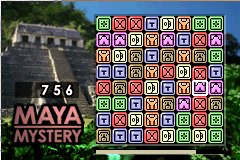 I just came across GBAdev.org and saw a brandnew GBA Freeware Game called Maya Mystery! It's a great game, and I'd recommend you to check it out
The first file I had to remove was 'La PS2' (PSX2/Demo) because of this e-mail: Hi i am bigboss of www.ps2reality.net, I see that you have our demo in your web thanks 😉 but we have a problem, La Ps2 TETSUO's demo is not legal. We have prohibited to this person publish this demo a long time ago, he sent
Hello everyone! The first feedbacks so far are really great, and thanks to the ppl who wished me a happy birthday 🙂 Some of you might had problems when using Opera or Netscape, we are working on that problem (Thanks to Simon B for the information). IE and Mozilla should work fine! The additions for today are: Gameboy Advance Additions
Dear Ladies! Dear Gentlemen! 🙂 Most of you might remember that my page (pdroms, aka Kojote's Homepage) closed down on the 4th December2001. Now I'm proud to announce that pdroms is back today, on the 20th June 2002 (which is also my 22nd birthday 🙂 ! Pdroms still contains only legal images (Freeware) for various systems, such as Gameboy Color&Advance,
Well… the re-launch comes closer and closer. Currently I'm fixing smaller problems, most of the work is allready done! Unfortunatley the transfer of my .com domain isn't done yet, so I'll go online with the .de domain! Thanks to all people who informed me about various page problems yet! I think I don't have to mention any name, you know
Playstation II Additions PS2 Invaders v1.5 by InPulSe Team Sound Check by Vzzrzzn So far the additions! I also changed the HTML Titles, they don't contain the word "test-page" anymore 🙂
As promised… here is the Sega Master System section! I think I'll skip the SG-1000 since the demos for that are not that great, and there are only 3 of them 🙁 Now it's definatley time to turn off the computer 🙂 Cya&#
Dear visitor 🙂 I'm proud to announce that the "Game Gear" Section is up now! Thanks to Zoop for a bunch of demos! A Master System II and a SG-1000 Section will follow soon! Have a nice day… Kojote
I just came across gbadev.org and saw that there was a neat RPG Style game called "The Adventures of Tom Sawyer". I tried it and it's really fun 🙂 Kyp4 and the other guys who developed that game did a good work! The PC Version is included too!