Below are Shahzad's Articles:

genesisfan64 is working on a game engine for Genesis/SegaCD/32X! It's currently missing stuff, like object-to-object collision and slopes are buggy. Support for GameGear and MasterSystem also planned. Possibly his shout out is to see any kind of reaction or response, so give him a hand. Losing motivation due to lack of feedback has abandoned many great projects already

Nathan Tolbert is currently working on his Bite The Chilli NES multicart! It collects different projects in on spot! Follow Nathan to find out more

Michael Chiaramonte shows us once again how to do some NES Programming. NES Programming #20 – In the backgroundWatch this video on YouTube. Quote: Before having our asset tool generate maps, I had learn how to manipulate the nametable properly on the NES. So, that's what we did. I figured out how to get it to load two screens worth [&hellip

Owen still works on Newo Fox for Nintendo's Wii. Quote: working on clouds for some of the land stages this weekend. Land stages only appear in Hard and Normal difficulty settings. game is basically done just need to finish these details and cleaning up bugs. #wii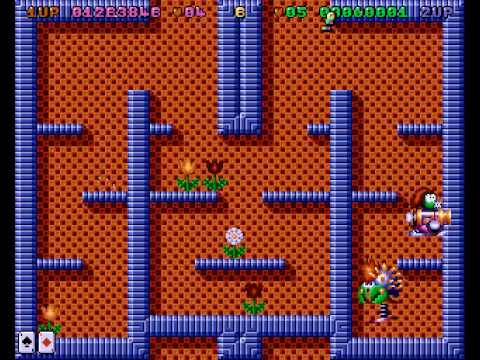 carstene1ns ported Super Methane Brothers, a former commercial Amiga platformer by Apache Software Ltd. httpv://www.youtube.com/watch?v=embed/kOczR030LNs Puff and Blow must suck the floating gas clouds into their guns and blast them out against a vertical surface. Bad guys then turn into bonuses which can be collected. Be warned! – the gas cloud dissolves with time after which baddies become active again [&hellip

Trophy is a brandnew Nintendo Entertainment System / Famicom game in development by Gradual Games

Retro Game Designer by Orion_ is a new upcoming tool to design and create retrogames using Windows. Watch this video on YouTube. Quote: Audio in French, Subtitles in English. Third video of my next software, Retro Game Designer, a game creation tool that will export to retro console such as the Megadrive / Genesis, Dreamcast, PS1, etc… Here I cover [&hellip

MazeShooter is an Android game by RaindropsArtStudio. It's ad-supported. MazeShooter… the name tells it pretty much already. Get ready for some puzzle action!

Pixel Javelin is an Android game by TheByteKingdom. Welcome to the arena! Throw some Javelins and hit the Target to get some points. Avoid the boars at all costs. Can you open all doors and have a Boarsome Party going on? Give it a try and see if you can top the Leaderboards! This game is ad-supported!

Base Defender is an arcade Android game by Bantu Nenek Production. Protect a base with various weapons. The game is ad-supported