CrazyLapinou is working on "GoldenEye Advance", it's a remake of the Nintendo 64 game GoldenEye.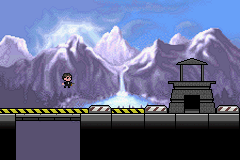 Release notes:
Warning: This is a development version. The first level is not finished yet and not all functions are not yet implemented

26/11/2009 – Development version:
– Start of first level
– Control character
– Menu with backup management

TODO:
– Cinematic start
– Management of Arms
– Management of enemies
– Management objectives
– Surely many others …
Thanks to http://www.nintendomax.com/index.php?topic_id=10911&format=news for the news.